The month of January has definitely been a very rewarding one for real money casino game players at Yebo Casino. Several members have won many thousands of Rands in prize money. Some of the winners have even walked away with tens of thousands of Rands from a single spin.
There is no specific type of slot that was more rewarding than the other. All the games including real money online table games like online roulette and online blackjack were paying out frequently. But it is the slots with their massive jackpots that take the position of highest paying casino games at Yebo Casino.
All month long we a have been congratulating all the big winners. However, this time we are encouraging all those who did not win big to keep on playing. That mega win is only one spin away.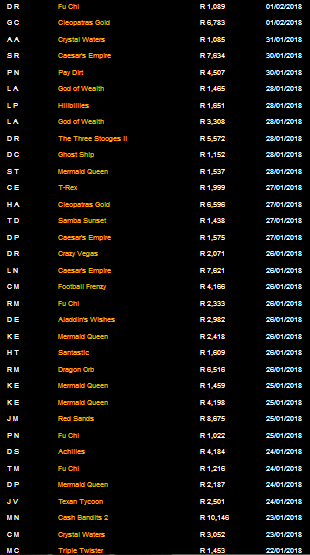 Looking forward: Real Money Wins At Yebo Casino
The future is the biggest gift that we have. It is filled with hope and it keeps us going. Therefore it is important to keep on expecting the best. The moment that you stop, then there is nothing to wake up for in the morning.
With new real money casino games being released by super casino software developer RealTime Gaming, there is always something for real gamblers to look forward to. Yebo Casino offers South African real casino players the latest games with the top payouts
January is firmly behind us but the real money jackpots are still available. The real casino games are still as fun as ever. This means there is still another opportunity to win a real prize at SA's top online casino.
Some gamblers have already begun to rake in the big wins in February. One of the big wins was in the new real casino game, the Fu Chi video slot. There are many more prizes and bigger jackpots to be won at Yebo Casino this February. Do not forget to claim your bonuses to boost your gambling bankroll, as South Africa's #1 online we give all the best real money bonuses and online casino promotions.