The battle in the billionaire's club between Stan Kroenke and Alisher Usmanov for Arsenal FC takeover has intensified. After the end of last season, the whole Arsenal club has been revamped.  We have witnessed many departures including the manager, Arsene Wenger and other senior staff members. With the look of things the only person who might not be leaving Arsenal anytime soon is Stan Kroenke.
Stan Kroenke is now set to take full control of the Arsenal Football Club. Kroenke who owns Kroenke Sports entertainment (KSE) announced that Alisher Usmanov has agreed to sell his shares of Arsenal football club. Usmanov sold his 30.05 per cent in the club for around 600 million pounds after crunch talks with the major shareholder. The deal has made Arsenal Football Club to be valued at 1.8 Billion pounds. Do not be petrified by these figures, you can score just as big playing online slots at Yebo Casino.
The Fans Perspective on Stan Kroenke
Since the move from Highbury to The Emirates Stadium, Arsenal Football Club has been operating and performing below par.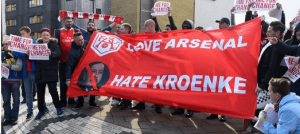 Instead of bringing in big players to the Arsenal realm Stan Kroenke has allowed a couple big players to leave. This has brought frustration to the fans and they have been advocating for the American Billionaire to depart North London.
However, the rage from the fans and other football pundits has increased tremendously. This is because some of the funds used by Kroenke to be a major shareholder were obtained from a bank loan. This is likely to hinder progress for the club to spend big to compete with big teams in the league such as Manchester City and Chelsea.
The Arsenal Supporters Trust is entirely against the sole takeover of the club. The Trust lamented that Arsenal FC is a very precious to be fully owned by an individual.