Yebo Casino enjoys showing off Mzansi excellence but then again which patriotic South African does not. That is why we take time to talk about good things happening around the country even when they are not gambling related. And, honestly, people tire of searching for the missing lotto winners. (in case you have not heard, there are stories of lotto winners who are not claiming their prizes, what a waste).
South African Universities Among the Best in the world
There are up to 9 universities in the top 1,000 universities in the world. These results were published by Centre for World University Rankings. This shows the level of academic progress that is taking place in the Rainbow nation. The universities were ranked using a variety of aspects. Some of which include the PhD-undergraduate ratio. The ranking points international students to universities that will help them become competent players in the industry.
The top 3 universities in South Africa were the University of Cape Town, Wits University, the University of KwaZulu Natal and Stellenbosch University respectively. Institutions were rated out of a 100.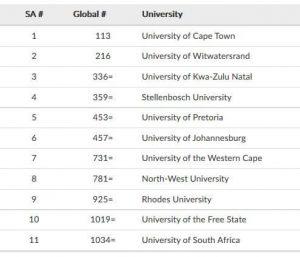 There are some universities that managed to score 100. Such universities include Harvard University in the USA. The university that was rated the worst is a medical school in China called Nanjing University.
What this means to the ordinary South African
As an ordinary real money gambler, you are probably wondering how this all affects you. Well, the truth is that even if there was something to feel the ordinary online gambler will not readily notice it. This is because the large number intellectuals that are being churned out of top universities in the country will mostly go into improving the "business of things" in South Africa. As the technology and way of doing business is made more conducive to a South Africa community the livelihoods of the people are likely to get better.
Which means there will be more real money internet gambling solutions that are designed to specifically service SA gamblers.
Other universities on the list are University of Pretoria' North-West University, the University of the Free State, the University of Johannesburg' the University of the Western Cape and the University of South Africa.