Yebo Casino is proud to call South Africa its home. This time it is not only because of the thousands of loyal casino members. The Springboks are making the whole nation proud. They won again against Argentina in the prestigious Castle Lager Rugby Championship.
The impressive South African team triumphed over the Argentinians in their own backyard. The match was played on Saturday, 27 August 2017 in the multi-use Estadio Padre Ernesto Martearena.  Salta residents and millions of viewers from around the world saw the exciting match. A match that ended with a final score of 41-23 in favour of the 'Boks.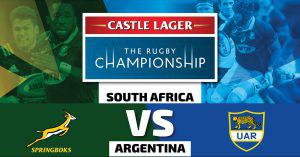 A Short Breakdown of the Castle Lager Championship
This stage of the Rugby Championship sponsored by Castle Lager is played in a mini-league. There are 4 teams in the group. Each of the teams plays home and away matches. After each round of matches points are awarded. The points determine the winners of the group.
Matches started on the 19th of August and run up to Saturday 7 October 2017. So far South Africa has played two matches both against Argentina. The other two teams in the group, Australia and New Zealand have also played two games against each other.
What the Result Means
As a result of the match, the Springboks are the leaders of the pack. Although at this stage it is only because of points. Both South Africa and New Zealand are on equal points after two games. These teams have each won 2 matches to give a total of 9 points. The South Africans have scored less but their defence has been more solid. Australia has scored a total of 89 points in all matches against SA's 78 points. The difference is in the points against. Only 38 points were scored against the Springboks while the Australians conceded 63 points.
If the Springboks keep their fantastic form they look set to win the Championship. Making all of Mzansi a little happier.
Happy gambling at Yebo Casino.