After launching our new Bitcoin deposit option powered by Neteller, today we released an update to our Skrill banking portfolio. Users can now fund their casino account using any major credit card such as Visa, Mastercard, American Express, Diners Club and various others directly through their existing skrill account or through anew Skrill account.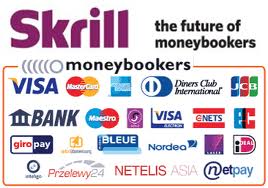 Those users that don't currently have a Skrill account don't need to worry. This is why: When you want to fund your account choose this dedicated option in the cashier called "Credit / Debit Cards (by Skrill)" Simply choose this dedicated tab and enter your deposit amount, credit card details and personal details. Once you press submit, Skrill will use these details and automatically create you an account in their system. You can now continue to fund your casino account, via Skrill using your everyday credit card. Please note, Skrill will ask you to verify your card and you may need to send in additional documents but these documents are all kosher and you should feel comfortable dealing with Skrill on this issue. Once it is verified, you can use this facility and top up your account instantly. You can obviously also manage your spending limits on this account.
Another benefit this option provides is that players can also get their winnings back to their Skrill account. This facility is offered to all Skrill members. Skrill recently launched their own credit/debit card system powered by Mastercard. What this means is that players can get their own card that they can use to deposit and withdraw funds in their Yebo casino account. This card can be used to withdraw cash at any ATM machine that accepts Mastercard (which is basically thousands of ATM's throughout the country). The major benefit of this card is being able to fund your Yebo account and receive your winnings, its most discreet way to do your gaming in South Africa.
Please note: Skrill can be used across ALL Yebo platforms including desktop games, mobile games and instant play. If you have any further questions visit our banking page or contact our freindly customer service team via toll-free phone, live chat or email. For any questions or further information about Skrill please also visit their website at www.skrill.com.