A dark cloud hung over the Grand slam winner. Serena Williams was denied an 8th Grand Slam title after she was knocked out by her counterpart Karolina Pliskova in Australian Open.
Karolina Pliskova was phenomenal in her quest to scoop the well-decorated tennis accolade. William used her tennis prowess to maintain a gap created by Pliskova. But all that did not last long.
Having lagged behind by a set and a break. Serena Williams looked like she had bulldozed herself out of trouble when she managed to clinch a 5-1 lead in what was a deciding set. However, her victory in that set was short lived. An incredible Karolina Pliskova went on to claim six wins in a row.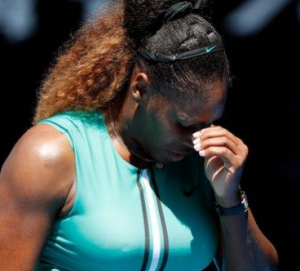 This enabled the latter to qualify into the semi-finals to battle it out against Naomi Osaka. The  Czech Republic player's performances clearly showed why she deserved the Semi-finals spot. Saving one match point at 5-1 along with a three more at 5-4 to come out victorious with 6-4-46 7-5 made her reach the semi-final in Melbourne.
Karolina Pliskova's forte and bravery paid off as she ended up scooping big points. On the other hand, Serena Williams struggled to cope with the speed of the game after she injured her left ankle.
Naomi Osaka and Karolina Pliskova Face Off in the Semi-finals
The battle between the Karolina and Plisova at the Australian Open Semi finals is not the one to be missed. After Pliskova came out victorious against Serena Williams surely it's going to be a tough encounter for Naomi Osaka. But the latter should not be underrated as well because her numbers against Svitolina tell a different story.
She managed to save four match points to reach a record of a 6-4 4-6 7-5 win. So we expect a thrilling Semi-finals in Melbourne Australia.