Reeza Hendricks a South African batsman shone astonishingly on his ODI debut against Sri Lanka earlier on Sunday. Reeza hit a century against  Sri Lanka to lead the Proteas to a 78-run win in the third ODI match encounter.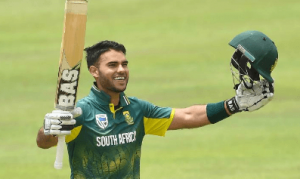 Hendricks's superb performance made 102 runs that helped the Proteas to deliver an emphatic 363-7 showing. South Africa went on to bowl out their counterparts at 285 in 45.2 over during the encounter. SA was on the front foot with an undisputed 3-0 lead. While the contribution of players such as Hashim Amla and JP Duminy should not be underrated.  Reeza Hendricks was named a man of the match for his brilliant displays.
Hashim Amla also contributed well to give South Africa a sharp start. His hit and run strategy gave him a whopping 59 runs. He was later bowled out by Sri Lanka's medium pace bowler Thisara Perera. The Sri Lankan bowler pulled out an impressive number of 4-44.
Reeza Hendricks and Du Plessis Match Thought
Hendricks thrilled after hitting a century on his first ever ODI match for the Proteas. Hendricks admitted that it was not an easy stroll to be called into the Proteas national first team. "It's quite a difficult to break through into this South Africa side, so I was quite fortunate and I managed to score some runs."
The Proteas captain injured his shoulder during the encounter, but he also managed to praise the performance of the youngster Reeza Hendricks and Lungi Ndidi who claimed four wickets. "To see someone plays like that on debut was remarkable and that's the great thing about our batting line-up," Du Plessis says.
At Yebo Casino you can score bigger than a century. Play online slots and win an astounding progressive jackpot for real money.