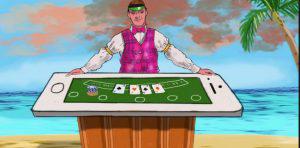 Pro-gamblers and casino game beginners are always on the lookout for an accommodative online casino gaming platform.  Yebo Casino has got you covered with a wide range of online casino games which will give you a taste of paradise from the comfort of your home. Yebo casino is the leading online gambling platform in South Africa. On offer is a large selection of online casino games, with up to 200 online slots available to Choose from.
Yebo casino runs encouraging promotions which come along with competitive bonuses. New gamblers don't have to feel nervous as they are offered a massive welcome deposit of R10,000. This bonus allows you to play without losing money.
The theme and graphic appearance of the games is a pleasure in itself. Games from RealTime Gaming are classy and highly rewarding.
Games On offer
Yebo casino offers a variety of gambling games. There are many different games in the basic casino game categories; video gambling, table games and speciality games.
Video gambling in paradise gives you access to online slots, online video slots, and online video poker. Games offered on these platforms are of the highest quality. These games are not just pretty to look at they also offer many chances to win real money.
The table games on offer include Online Blackjack, Online Roulette, Online Baccarat and many more. There are many versions of these popular games at the casino. And as you can expect when gambling in paradise, the tables are always available to you
So whether your passion is spinning the well-crafted wheels of roulette or calculating your way to a win in blackjack you are guaranteed a seat at the table.
Yebo Casino, as the top online casino in the country we always urge players to enjoy gambling responsibly. Even when they are playing in a paradise environment where games of chance are plenty and the wins are as regular as rain.