It is easy to describe Christopher Henry Morris as a very good cricketer. Just as it is easy to describe the promotion based on this exceptional player as generous. Yebo Casino is proud to associate with such talent. The 30 year old cricketer has the ability to cause serious damage with either bat or ball.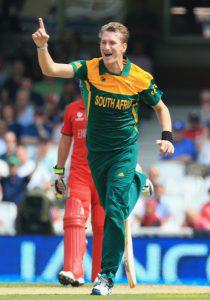 As such the bonus that is part of this promotion tries to give players similar levels of freedom. This will allow you to select the best way to triumph in the same way Morris can be the hero from anywhere on the field. Each day has its own flare. Some days the urge to out maneuver the casino games drives you to win at casino table games. While on others, raw luck is displaying itself and demanding that players quickly turn to the richest online slots to collect a top online casino jackpot.
Morris' R3,000 Promotion
We are offering all real money casino players a massive R3,000 bonus to play any casino games they want. This promotion will run every Thursday for the month until the 29th of June. Which means the bonus will still be running well after the ICC tournament is over. Showing that as the top real money online casino in Mzansi, Yebo Casino values rewarding their players.
Even though the Morris is from Pretoria, Gauteng. The promotion is open to players from all regions including Namibia, Swaziland and Lesotho.
Terms Of The Bonus
The bonus is redeemable all day long every Thursday. Players do not need to rush to finish the bonus in a short playing session. Unless if you are in T20 mode. The promotion offers players 60% of the deposit as a free money. As previously mentioned the maximum amount that players can get from the Morris Promotion is R3,000.
To qualify for the promotion players will need to deposit a minimum of R100 on the Thursday that they want to redeem the bonus. An amount that will not restrict the promotion to only High Roller players. CODE: MORRIS60 will be required when you are claiming your bonus. Head on over to https://www.yebocasino.co.za and log into your account to claim this coupon.