Memes have become a norm for most internet users worldwide. Social media has its own way of expressing things. Platforms such as Twitter, Instagram and Facebook are used to share trending memes in the world on the internet.
This new idea of having a lot of funny images of famous people flooding the internet is quietly hilarious as it adds fun to the whole universe. This will also help people all over the world the engage each other deploying different beliefs through memes.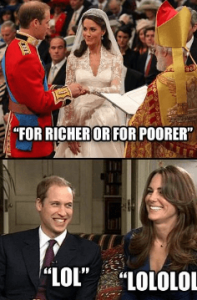 They are very useful to an extent that they can lift up your spirit especially if you are having a bad day. Let's recap some of the most talked about memes this year.
Royal Wedding
One of the most main events this year is a royal wedding. The royal wedding rocks the internet imposing a lot of debate in the whole world. Prince Harry and Meghan Markel blew the world apart with their historic wedding. This paved way for internet users to create comical memes that made everyone to have the feel of the wedding.
South African Music Awards Memes
The South African Music Awards that took place early June are definitely to remember and they are still fresh in our minds. Despite the colourful performances by artists, Black Twitter was the most highlight of the night. South Africans don't know when and where to stop creating jokes that will gag the internet all day long.
Some of the memorable memes of the night were on the Hip Hop rapper Kwesta's hairstyle. The rapper's hairstyle was being familiarised by the box with McDonald's fresh chips. Elsewhere that night, there were also other celebrities such as Somizi Mhlongo, Nadia Nakai and Ricky Rick.
The jokes are now part of the internet mainly social media, so celebrities must just bear them with grace because it is the lightest mockery they get in their celebrity lifestyle.