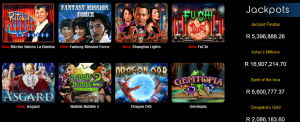 Many of the top online casino game players know a lot about real money casino games. It is upon this knowledge that each one of us creates our own gambling strategies. Regardless of the games being the very same, the strategies differ greatly.
There is that small case that occurs when the games look the same and even play the same but require completely different strategies. This is the curious case of Progressive Jackpot Slot Games and internet slots without jackpots.
So Close Yet So Far
An online slot is an online slot. The gameplay is basically the same. There is nothing that can tell you that a real slot is linked to a progressive jackpot if the many signs pointing to that were removed. Games have the same design and even pay lines with most progressive jackpots activating randomly after any spin. This means that you are playing a casino game with no jackpots up until the random jackpot triggers.
The difference is the money end. For the progressive jackpot to climb high enough to be attractive, it has to collect a small percentage of the bets for a while. This means that these games are designed to pay out less often. Which, is completely unrelated to the Random Number Generator (RNG) process which determines which symbols line up on each reel at each spin.
So while the progressive jackpot games pay less they give bigger payouts. This, therefore, demands that different gambling strategies are used for jackpot games and no jackpot games.
Different Strategies
While most of the basic gambling strategies remain the same there is one major difference. This is in the distribution of the bankroll.
For no jackpot games select higher coin sizes as the game will pay regularly. When playing high jackpot games select a smaller coin size. This is will allow you play for longer in search of that big prize. And when the prize comes, the size of the jackpot compensates for the smaller coins size.
Whichever type of game you enjoy or the strategy that you choose to use, Yebo Casino has all the best games in South Africa, Namibia, Lesotho, Kenya and the rest of Africa.