While indeed everyone is free to express themselves in any way they want, it is very important not to infringe on someone else's rights as you do this. As the Human Rights month in South Africa, Yebo Casino took time to reflect on the world that we live in.
All We SEE are Changes
There was a time when a crime or violation of rights humans in one part of the world would only make up part of the news bulletin in another part of the world. This time has long gone.
Today news travels fast and people get a live feed of events as they happen. The internet has really provided us with quick access to information and communication. This has allowed the world to respond to issues that would have normally been swept under the carpet so to speak.
What are these changes that we are seeing? Well, the primary thing that has changed is the way the whole "rights thing" is being read. In the good ol' days most people concentrated on the freedom to express themselves. This trend caused the rise of individualism in society.
As we are completing the second decade of the 21st-century things are changing. The bulk of the population is now concerned about how we treat other people. The other person has become the centre of focus. Suddenly, your freedom is only as important as the happiness and comfort of the next person.
Russell Simmons: A Perfect Case Study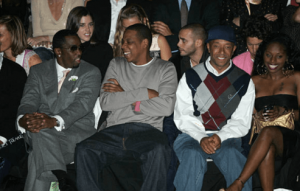 The bulk of this generation grew up to MTV music videos. The image of success as a male that was portrayed usually as having lots of women around you. Women who were clearly content just to be in the shine of your superstardom. In these videos, it looked like the women had no resentment to being caressed by the Alpha.
Simmons clearly misread the videos, many of which he paid to make. Now what is clear is that the "groupies" are not impartial to the physical and verbal contact. Whether he did or he didn't, the lesson has been left for the rest of the "MTV generation".
Treat everyone with respect regardless of who you are or who they are. You do not know how your actions will be judged in the future. Coming from Apartheid, South Africans understand this more than the rest of the world.