Bitcoins are the hottest investment trend of the moment. And some of the advice on how to invest in them is so hilarious we have to share it with the most awesome internet casino game players.
The decision on how to deal with such opportunities should be arrived at after careful consultation and considerations. As the top online casino in South Africa, Yebo casino comes into contact with all sorts of people. Here is what some of them had to say.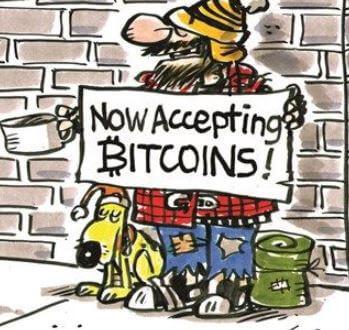 "Chuck Norris mined all the bitcoins, Twice!" That has to take the top spot for the worst reasons not to invest in bitcoins. But as people who lived during the age of Chuck Norris, we know it is bad judgement to underestimate the ability of Chuck Norris in any situation.
The second reason is…well… a lot more tolerable, maybe because it had some serious thought put into it.
"There are no good bitcoin jokes." is the second reason. Take for example the two below. (And  Yebo casino failed to find any better bitcoin jokes to show you how dire the situation is).
A man walks into a butchery and asks the butcher if he is a gambling man. The butcher replies, "Yes." And the man proceeds to say, "I will bet you ฿10 that you cannot jump up to touch the steaks on those hooks"
The butcher replies, "No thanks, I won't bet on that." The man exclaims, "But I thought you said you are a betting man".
"Yes, I am, but the steaks are too high"

A homeless man approaches a man and asks for ฿0.002 (obviously not a Mzansi bum). The man asks the homeless guy, "If I give you the money will you use it to buy beer?" "No" replies the bum. "Will you use the money to gamble?" "No" replies the homeless man. "Great," says the man "come home with me! I want to show my wife what happens to a man who does not drink or gamble."
Bet using Bitcoins at Yebo Casino where South African real money casino game players know the "steaks" are set just right.
Happy Gambling!!