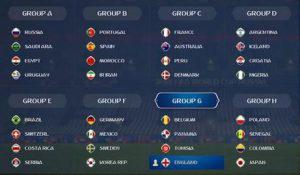 The FIFA 2018 World Cup has increased in tempo as a round of 16 looms. The host Russia is are advancing to the round of 16 along with their counterpart from group A, Uruguay.
In group B, the competition is still very stiff, the 2010 World cup winners Spain are on the summit of the group with Portugal sitting on second place but both level on 4 points. The team with most prolific defending record Iran, are 1 point behind these top guns.
The formidable Iranian side will battle with Ronaldo's side, Portugal, with the aim of getting all the 3 points to advance to the next round of the tourney. Portugal will venture into this encounter buoyed with confidence as one point will be enough for them to qualify.
In group C unsurprisingly France has already booked a place in the last 16, with Denmark's chance of qualifying is still hanging with a thread. The Socceroos of Australia are keeping up their hopes of qualifying. The team is hoping for France to win and for them to win against Peru but they have to score more goals than Denmark. There is a lot at stake. A lot more than just a paycheck.
After coming in victors against Iceland with a 2-0 win on Friday, the Super Eagles of Nigeria's hopes of qualifying to the next round are no longer far from reach. The Nigerian team has a tough task ahead of them in the game pitting them against Lionel Messi's Argentina. Nigeria will go through if they manage to salvage a point against a poorly performing Argentina side.
With Croatia already qualified, any of team Nigeria, Argentina and Iceland can still join them to the next round depending on the outcome of their last encounters.
A Little Different but What We Expect
Elsewhere, Sweden almost halted the world champion's hopes of qualifying. Germany was on the back foot for almost 40minutes of the game before Marco Reus levelled the encounter with Tony Kroos's last kick of game scooping all the 3 points to keep the Champion's dreams alive.
England went to the World cup as underdogs, but their astonishing performances have raised the expectations many. Especially after hammering Panama 6-1 to advance to the round of 16 in style, along with the star-studded Belgium side all on 6 points.