A lot of people get overexcited during the holidays and try out new things like online gambling. As profitable as it is to have a dummy internet casino game player it is just not Yebo Casino's style to promote ignorance for profit. That is why we are promoting "informed gambling" in the month of December. We are South Africa's most trusted online casino because we have the people at heart.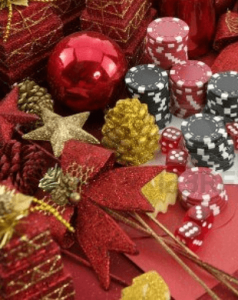 Informed Gambling
Giving patrons information to help them in their decision-making process is the latest trend in the international gambling community. As SA's top internet casino, Yebo Casino is proud to bring this fabulous trend home.
During the entire Christmas festive season, we will be giving facts that enhance the online gambler's decision-making ability.
Informed gambling is More Rewarding Gambling
The world of casino gaming has for been shrouded in mystery and secrecy for several centuries. This is because gambling has been illegal in many parts of the world. However, things are changing across the planet. Many countries have legalised gambling and some of the most respected gambling authorities are taking the lead in regulating international online gambling.
The internet not only provides a platform for playing real money casino games, it also gives people access to unlimited and unbiased information. The recent drive by the top Search engines to index the internet has led to a great improvement in the quality of information available. However, some of the information can be misleading, especially when you do not know who to trust.
Yebo Casino's Festive Gift
This festive season your favourite internet casino in SA will find all the trending gambling tips and strategies to share them with you. As South Africa's top online casino we know who to trust and who is out to scam gamblers. And why are we giving players tips on beat the house? The answer is simple, strategy improves the players' edge whereas the house wins on the volume of bets placed per day. The casino's profit is a result of collective effort not the performance of any single player in the day. That is how straight Yebo Casino is giving it to you.
Watch this blog for more information or follow us on Twitter and Facebook