The upcoming soccer encounter of Spain's two top teams is now on the verge. Online casino bookmakers will be lining up the odds for this huge encounter of the El Clasico. This match is not just a regular match but it is where the talk of real money happens, as gamblers will be rushing to place their bets. To all online gamblers make sure you place your bets wisely. These kind of matches are unpredictable, but this article will highlight where the game will be won.
This is going to be the first El Clasico match since Cristiano Ronaldo made his shocking move to Juventus. However, that alone should tell you something when you are placing your bets. Bringing it a bit closer home. The move for Cristiano Ronaldo to Turin marked the end of his rivalry with Lionel Messi. For the past few years, this match has been a personal battlefield between the two football icons.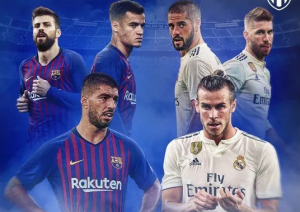 Where is the El Clasico going to be won?
The encounter is going to be very indecisive considering the fact that all the two top names will be unavailable. Ronaldo is now a Juventus player; on the other hand, Lionel Messi has been sidelined after breaking his arm.
However, the match's outcome will be decided according to both teams' overall performances. After playing nine matches, The Catalans (Barcelona) are sitting on the summit of the table with 18 points. However, The Los Blanco's (Real Madrid) has hit a nosedive since the departure of Ronaldo. The European Champions have played nine matches losing three of those and they are currently sitting on the seventh position on the table.
Furthermore, the above stats cannot be the benchmark of what will be the actual results come Sunday. The stats can be a contributing factor in terms of the morale and the spirit in the dressing room. But in this kind of games, anything can happen.