Researchers have discovered that the majority of gamblers do not think that they will win the jackpot. This would seem strange considering that they are playing the game in order to win the jackpot. The reality is that now the majority of people that are gambling do it more for the thrill than the prizes. Only a small percentage of people that are gambling do it professionally.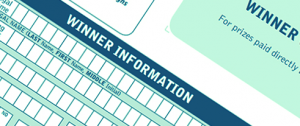 Therefore as you can imagine this means that the bulk of jackpot winners have no clue on how to claim a lottery jackpot. Not the paperwork part of it, obviously the gambling establishment would handle that. It is the way that you are supposed to behave after winning the jackpot that we want to discuss.
Lottery winner Etiquette
No, we are not talking about how to smile and look presentable as the photos of you with your big cheque are being taken. Instead we are talking about the very opposite of this. There is a very serious issue of security after winning a large jackpot.
Publicly held lotteries usually demand that the winner does some publicity work for them. There is nothing sinister behind this. In fact it helps other gamblers to know that the system works and it is not a scam. Below are a couple of things that you want to do in order to maintain your privacy and protect your money in case you win a major jackpot.
Try claim through a third party like an attorney at law
Disclose as little information about your personal life to the public. This is the newspapers and other forms of media
Consider relocating to another area. The people in your area will know about your new found fortune and will share your success story with anyone who wants to listen. Not out of wanting to cause harm but rather because they are proud of you.
The most important thing after winning a jackpot is to try and improve your security. Money like that naturally attracts thieves. Those that will not break in at night will try talk you out of your money. This means maintaining your privacy is also important. It is Yebo Casino's policy to protect the identity of our members, especially those that win big in South Africa.