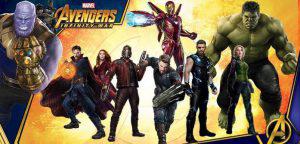 There have been a lot of really good movies released recently. This makes judging the latest offering from Marvel comics so difficult. Many of the film critics that watched the movie were not too impressed. It was this negative media that caused Yebo Casino to develop an interest in the movie.
As the top online casino in South Africa, we felt it necessary to investigate further. We are not just about real money gambling, entertainment, that is our real game.
To investigate we enlisted the help of some true fans of the Avengers. Our team of panellists comprised of youngsters aged 14-15 years. We were sure these young minds would give an objective view of the movie.
At the Movies With Yebo Casino
The movie started in earnest, revealing what was later termed the best baddie ever by the team of experts. By this was not before we had to dry a few tears after half the. . .
Okay, Spoiler Alert!!
The movie was a true emotional roller-coaster ride that managed to get even Yebo Casino teary-eyed. Watching teenage Groot sacrifice himself to give Thor's new Axe an organic look was special. The way the whole team eventually comes together for the final battle on the borders of Wakanda is nothing short of Epic. But unfortunately, these were only the sentiments of Yebo Casino.
Fair Review
After pizza's and other sugary delights, the comments started coming in. And surprisingly the professional film critics had it spot on. Even though the action scenes were awesome, too many parts of the story were left undeveloped. But that was voted alright since the directors had the impossible role of fitting so many superheroes into the movie.
In conclusion, we ended up watching it again. That how much we all liked it!