Andres Iniesta is one of the most decorated soccer players of our generation. Barcelona fans say goodbye to this mid-field maestro this season as he moves to play in China. Yebo Casino joins a large number of football fans in bidding farewell to inspirational La Liga and Champions League soccer from this great player.
There are very few occasions in soccer where the home fans salute the efforts of a player who has played a pivotal role in demolishing their team. Seville fans showed true football spirit as they gave the Iniesta a standing ovation. It is at times like this that it becomes abundantly clear why soccer is called the World's most beautiful game.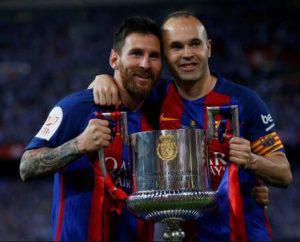 Going Out Like A Star
Even the stars that light up the heavens have do not just disappear. It is after a marvellous display that they disappear from our view. As they continue to exist albeit in another form. The Chinese will get to enjoy the "after-life" of soccer great.
With the magnificent goal that Spain's most loved son scored during Barcelona's Copa Del Rey win it is abundantly clear that he still has it. The Chinese are definitely not getting shortchanged with the deal.
The Copa Del Rey is the last final that the master player will play with Barcelona. And what a match it was for the star. He was instrumental in the moment by moment play that led to the 5 goal avalanche that crushed Seville to win Coach Ernesto Valverde's first Silverware with the club.
Life after Iniesta
Barcelona looks set to win a double this season despite all the criticism that they faced. Even the sports betting odds reflected the low expectations. But things have turned out completely different as the team has powered on to have an impressive season.
Replacing Andres Iniesta will be a hard task. However, Barcelona has shown that they are never a team to rule out prematurely.