Aces & Eights Video Poker : play Aces & Eights Video Poker online
Though it may seem at first like any other video poker game you've played in the past, Aces & Eights has a few subtle differences that you'll notice when you first start playing and that could result in some pretty impressive wins on this Realtime Gaming video poker machine. Now available for play at Yebo Casino, Aces & Eights is all about the four-of-a-kind combos but that doesn't mean you shouldn't still aim for that ever elusive royal flush.
The game begins, as so many others do, with 52 cards and five of those are dealt to you facing upwards. You will need to analyse those cards and indicate which you want to stick with and which should be replaced. The game does not offer wilds so you'll need to consider the cards you think could result in a winning combo quite carefully. Should you manage to get a winning combination of cards, you'll get a payout and the ones to look out for especially, as mentioned above, are four cards of the same value but different suits. As the game is called Aces & Eights, finding four aces or four eights should obviously be your priority.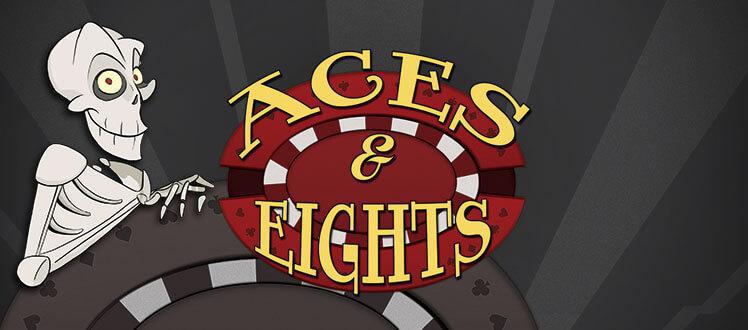 As with all other video poker machines, it is recommended that you make the maximum wager in order to claim the maximum reward but even if you decide to bet just one coin, you could still get a really decent payout provided you finish with a royal flush. A one-coin wager will net you 250 coins in return for this combo, but keep in mind that a five-coin wager will net you a 4000-coin return which is a return of 800:1. The royal flush is the biggest payer but following it directly is the four-of-a-kind combo of aces or eights. Find either of these with a wager of five coins and you'll be given 400 coins in return. Next is a straight flush, following by four-of-a-kind sevens and then all other four-of-a-kind card values.
Many players ask whether video poker games such as these ones can be manipulated using certain strategies and while there is no way to account for luck, you'll find that employing certain tricks could help you get closer to a win. For example, if you are dealt certain cards in the first deal, you can hold onto them to increase your chances of winning. A perfect example of this is being dealt either four cards or three cards of a royal flush. A first deal of a jack of spades, queen of spades and ace of spades for example, is one that could see you winning big so hang onto those cards tight.
Since four of a kind pays out so well in this game, ensure you also hang onto any pairs or three-of-a-kind combos. Got dealt two sevens? Hold onto them. Received three aces? Don't let them go. Those are exactly the kinds of card combos you need to keep if you want the game to go your way.
Aces and Eights is only one of nearly 200 games available at Yebo Casino. To view all our games simply log into your account and visit the casino lobby. Open your browser and type in www.yebocasino.co.za for further information.