7 Stud Poker : Play online 7 Stud Poker for real money
Tried out all of the standard video poker games Realtime Gaming has to offer? Well, here's one that's a little different and that you can play right now at Yebo Casino. 7 Stud Poker is a game that you wouldn't be able to understand from its name alone, but playing a few hands would reveal exactly where its name is derived from. In this game, unlike any of the other types of video poker, you get dealt not five but seven cards but only the first and the third are dealt face. Every time you place a bet thereafter, another of the cards is revealed which is the why the game is called '7' Stud. Of course, for those who are a little on the impatient side when it comes to playing online, the game does cater for that too with a 'Deal all' button that allows you to reveal the cards all at once, at a cost.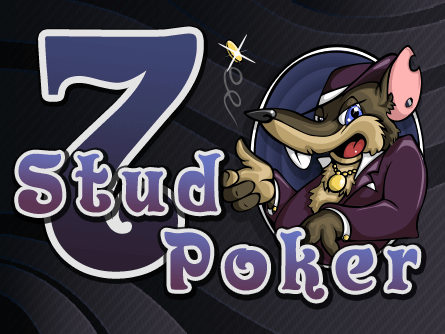 In other games, you'd find that a pair could net you a small payout but in this game, don't bother with anything less than three of a kind, which in itself will net you only 20 coins. However, should you manage to assemble the cards needed for a royal flush, 500 coins are all yours. As you may have already guessed, the chances of you winning in 7 Stud Poker are higher than in some of the other variants of video poker, as you have the option of drawing a combination from seven cards, rather than just five. This gives you a slightly higher edge as you'll have a greater chance of getting at least one great combination every few hands.
The game also caters for those who love playing with cards but enjoy the bonus game aspect of the slots. If you have a straight or hand value that is higher, you'll be able to access the bonus game which is a double or nothing round. You'll be able to bet the amount you've just won on the chance to double it by indicating whether you think a card that is dealt is either big or small. If you choose big, you'll be indicating that you think the card is an eight, nine, ten, jack, queen or king, but should you choose small, you're indicating that you think the card is an ace, two, three, four, five or six. You may have noticed that the number 'seven' is suspiciously missing from this list and that's because the seven shuts down the round no matter whether you picked big or small.
This certainly doesn't make for an easy chance to win, however if you do manage to guess correctly, you'll be given another chance to double your winnings by playing the same game again. In essence, it's a double double. This fun game is a great one for those focused on a win and while nothing is guaranteed, getting just a little luck on your side will push you further towards one of the awesome payouts.
To try this game and many others, visit the Yebo Casino home page from your browser by typing in www.yebocasino.co.za. Log into your account and search for 7 Stud Poker from within the lobby.